Captioning Options
All videos posted in your Canvas courses must be captioned. Please review the following scenarios for captioning options available to faculty.
Scenario 1: I need to caption my Canvas Studio videos
Fullerton College added Canvas Studio in July 2020. Canvas Studio allows faculty to create a video library within Canvas by embedding video creation tools built on Screencast-o-matic, providing space to upload and store existing videos, and giving faculty the ability to add YouTube and Vimeo URLs to their Studio. There are two different processes for captioning in Canvas Studio.
Captioning Videos Created or Added to Canvas Studio:
In your Canvas Studio Library, click View on the video you want to caption.
Select the Captions tab.
Select Request.
Select the appropriate language and click Request.
The captions may take several minutes to process. (You will receive an email when the auto-generated captions are complete.)
Once the captions have been generated, click the caption language. This will open the new caption editor interface.
Review the captions and make revisions as needed. To edit a caption, select it, make corrections in the Edit Caption section, and click Save.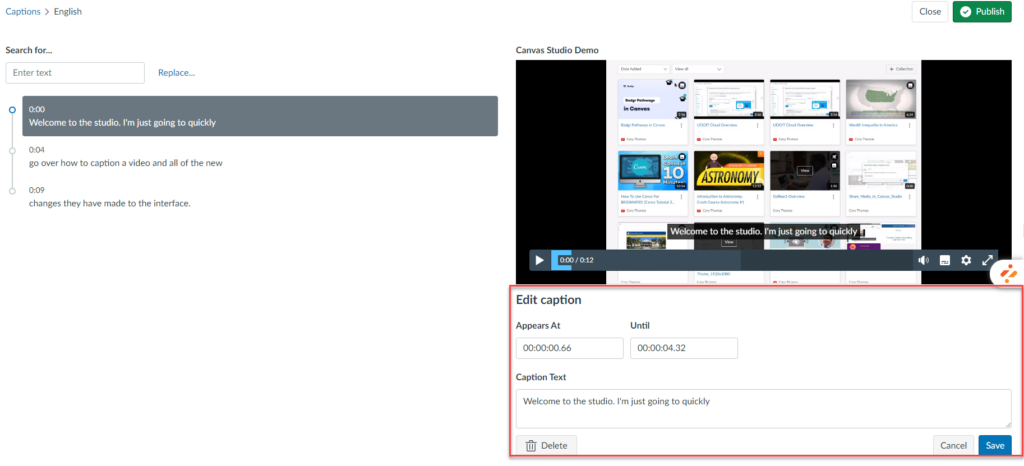 Take advantage of the Find and Replace feature if you notice the captions are getting certain words wrong repeatedly.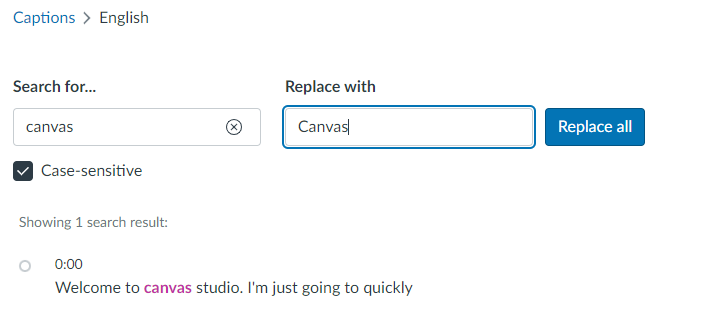 Once your edits are complete and the captions are accurate, click the green Publish button.
Captioning YouTube Videos Added to Canvas Studio:
You will notice that captions from YouTube do not transfer over when you add a YouTube video to your Canvas Studio. Please follow the steps below to retrieve the YouTube captions file and add the captions to the YouTube video in Canvas Studio.
Copy the YouTube URL.
Go to DownSub and paste the YouTube URL.
Click the green Download button.
Select the green SRT button to download the caption file and save it to your computer.
Go back to the video in your Canvas Studio.
Click Captions, then click the Upload button, and select the appropriate language for your captions.
Select the captions file you saved from DownSub.
If you need to edit the captions, select the three-dot menu, and choose Edit.
Congrats – your video is now captioned in Studio!
Scenario 2: I create my own instructional videos and host them on YouTube
Solution: YouTube Caption Editor
Watch this short video to learn how to edit YouTube's automatic captions.
Note: YouTube has a new YouTube Studio interface. Many of the features you will need are missing. Save yourself a headache and switch back to Creator Studio Classic!
Go to YouTube Studio and sign into your account
In the bottom left menu, click Creator Studio Classic
Print out this "cheatsheet" to keep at your desk for reference.
Scenario 3: I create my own instructional videos, but do not want to use YouTube
Solution: 3C Media
Note: As of November 1, 2020, 3C Media has changed the way they prioritize captioning requests. Each request for captions must be accompanied by a certification that the request is for a student with an approved accommodation. Further information about the priorities of 3C Media captioning requests are listed below. 
3C Media Benefits:
FREE video storage for faculty, staff, and administrators of the CA Community College system
Share videos privately or publicly
Request captioning in a few simple steps
3C Media Captioning Request Priority:
Closed caption requests for videos greater than 30 minutes in duration, if meeting the requirements described above, will be processed as requested.
All closed caption requests for videos less than 30 minutes in duration, if meeting the requirements described above, will be processed as auto-caption videos. Faculty/staff should edit them for accuracy as needed.
All closed caption requests for videos that do not have a certification of current need for accommodation, but would like to be accessible for potential students with disabilities will be processed as lowest priority auto-caption videos. Faculty/staff should edit them for accuracy as needed.
Create an account and request the ability to upload videos.
Watch this video to learn how to register for a 3C Media account.
Watch this video to learn how to upload videos to your 3C Media account.
Watch this video to learn about the 3C Media Canvas LTI.
Scenario 4: I use third-party YouTube videos that have auto-generated captions
Solution: Download the Captions from YouTube using DownSub
Even if you do not own the YouTube video, you can access the captions using DownSub.
(Note: The DownSub website looks a little sketchy. FC faculty/staff and colleagues at other CCC campuses have used the site hundreds of times without issue, but if the look of the site deters you, Captions Grabber is a good alternative – it just requires a few extra clicks.)
Paste the YouTube URL into DownSub and click the green DOWNLOAD button.
Click the green SRT button and your caption file will download.
Open the file and make corrections (add punctuation and capitalization, correct misspelled words, etc.) and save the file.
Add the Caption File to the Video in Canvas Studio
Go to Canvas Studio and click the Add button.
Paste the YouTube URL and click the blue Add YouTube Video button.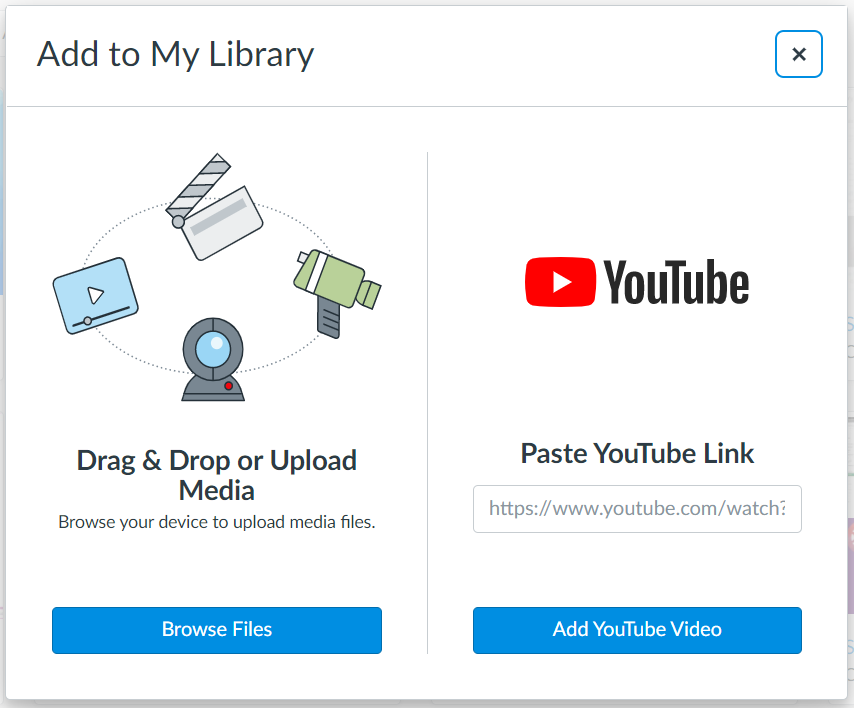 Click on the video you just added and go to the Captions tab
Under "Upload" select English, or whatever language is appropriate for the video, and locate the caption file you edited and saved previously.

The captions have been added to the video!
You can turn them on using the settings button on the Canvas Studio video player.
Scenario 5: I use third-party YouTube videos that do not have automatic captions
Solution: Amara
Create a free account with Amara and use their editor to caption third-party videos from YouTube and/or Vimeo. Watch the video below to learn more about Amara's captioning interface.

Scenario 6: I recorded my Zoom lectures and need to caption the recordings
If you would like to record your Zoom lectures and then post them in Canvas for students to review, there are a few options for captioning those recordings:
Option 1
Download your recorded lectures from your Zoom account (Zoom > Recordings > Cloud Recordings)
Sign up for a 3C Media account, upload your recorded lectures, and request captioning

NOTE: The turnaround time for captioning is much longer than it used to be pre-COVID. Captions may take up to two weeks and that is always subject to change.

Option 2

Turn the audio transcript settings on in Zoom. (Zoom > Settings > Recording > Advanced cloud recording settings > "Create audio transcript" and "Save closed caption as VTT file" checkboxes)
These settings will enable you to download a caption (.vtt) file along with your recorded lecture from your Zoom account. If you need to make edits (correct spellings, add punctuation or capitalization, etc.), you can easily make them right in the caption file.
Depending on the size of the video (10 MB or less), you can upload the video and add the caption file to Canvas Studio. (For reference, the recorded lecture shown below is 21:38 minutes long and was approximately 8.5 MB.)
Canvas Studio also has a Request Captions option you could elect to use if the Zoom caption file seems like it will be too difficult to edit. Those captions are approximately 85% accurate and are very easy to edit and publish.

Option 3

Upload your Zoom recordings to YouTube.
YouTube will generate an automatic caption track, which is very easy to edit. Refer to this YouTube Captions Cheat Sheet and Scenario 2 above for more information.
Scenario 7: I need live captioning in Zoom
Activate Zoom's Live Transcription Feature:
Go to your Zoom In Meeting (Advanced) settings and ensure the captioning options are all turned on.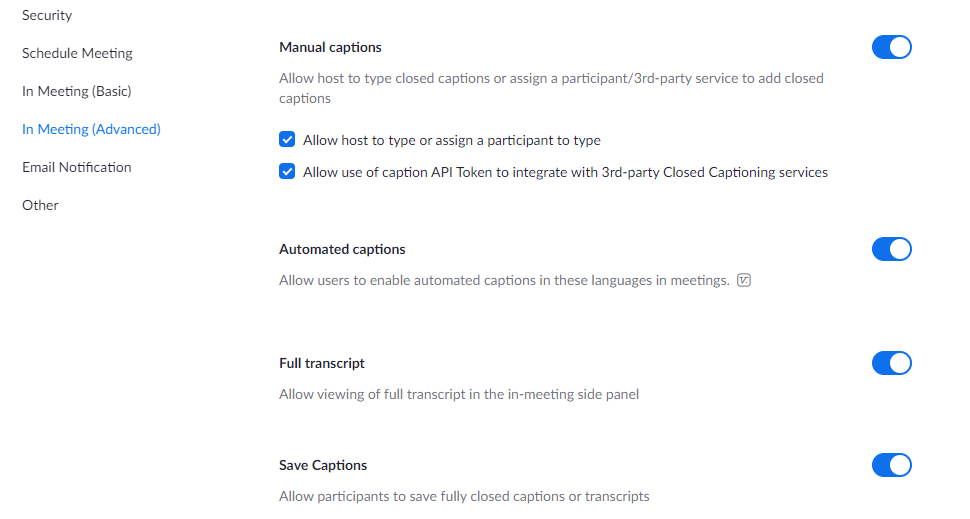 Click the "CC – Live Transcript" button on the Zoom control bar

Click "Enable Auto-Transcription"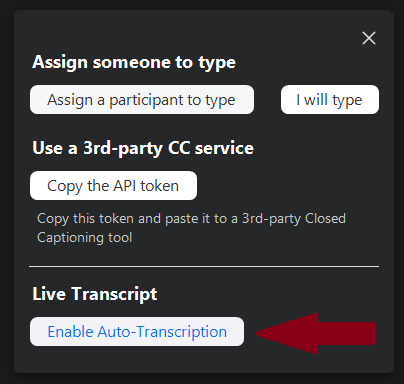 Note: The Zoom auto-transcription is not sufficient for someone who is deaf/hard of hearing and requires a live person to provide such access. Students who require captioning and/or transcription services as a disability accommodation should be referred to the Disability Support Services office.