Online Learning Consortium Institutional Membership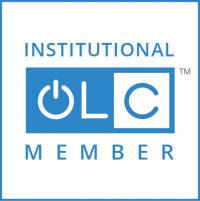 Fullerton College has an institutional membership to the Online Learning Consortium (OLC). With OLC Institutional Membership, all faculty and staff have access to and full use of the membership benefits including:
How do I access OLC Institutional Membership benefits?
You must use your Fullerton College email address (i.e. jsmith@fullcoll.edu) to access benefits.
Create a free Online Learning Consortium user account 
During the account creation process, you must choose "Allow" when asked to allow access
Once you create your account you will be automatically logged in and also sent an email with a link to access your account
Once logged in, the system will now recognize you as a member and you can use your OLC Institutional member benefits
How do I ensure my existing OLC account is affiliated with Fullerton College?
If your current OLC user account uses your organization email address, you simply log in with that account and you are all set!
If your current OLC user account does NOT use your organization email address:

Log in to your current account, go to Account (top).
This brings you to My Info.
Scroll down to Email, then Change.
Add your organization email address and change your Preferred Email Type to choose your organization email. 
What OLC courses can I take for OTC equivalency?
OLC offerings were researched to select two courses that cover the requirements for FC Online Teaching Certificate Equivalency.
These courses are asynchronous, week-long workshops that begin on a Monday and end on the following Sunday. The workshops require approximately 6-8 hours of work including reading research-based articles, viewing presentations, engaging in online discussion forums, and submitting required assignments.
Cohort 1:
Fundamentals: Interaction & Engagement 6/1-6/7
Designing with Accessibility in Mind 6/8-6/14
Cohort 2:
Fundamentals: Interaction & Engagement 6/29-7/5
Designing with Accessibility in Mind 7/9-7/12
REGISTER THROUGH THE DISTRICT STAFF DEVELOPMENT CALENDAR IN MYGATEWAY. SPACE IS LIMITED!
Access Conference Recordings
Conference Recordings are available for one year.
Log in to recording site for conference with Fullerton College email address.
Select All Sessions