TechConnect Zoom New Account Instructions
TechConnect Zoom, embedded in the FC Canvas system, is a video conferencing tool provided by the CCC system.
There are two steps to follow to request your account:
STEP ONE: Make sure your @fullcoll.edu email address is the default email address in your Canvas account. To verify this, click your account in the Canvas global navigation menu, and go to Settings.
Check the email addresses listed under Ways to Contact on the right side of your screen. Your @fullcoll.edu address should have a star beside it. If it does not, hover over the email address and a faint gray star will appear. Click that star icon. Your default email is now set and you can move on to STEP TWO.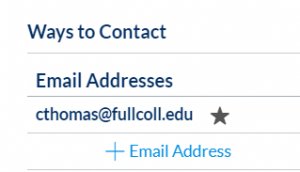 STEP TWO: Email counhelp@fullcoll.edu to request your ConferZoom account.