Accessibility Quick Tips
Creating an online learning environment that is accessible to all is not just the law in higher education, it is the right thing to do for our students. Use the information below as a quick reference guide for your Canvas course pages and other course content. Note that most of these items can be verified and/or corrected using the Canvas Accessibility Checker.
Accessibility Checker
The Accessibility Checker verifies attributes within the Canvas Rich Content Editor and notifies the instructor of common accessibility errors. The Checker also provides an explanation of the error and the necessary fields or menus to correct the accessibility error.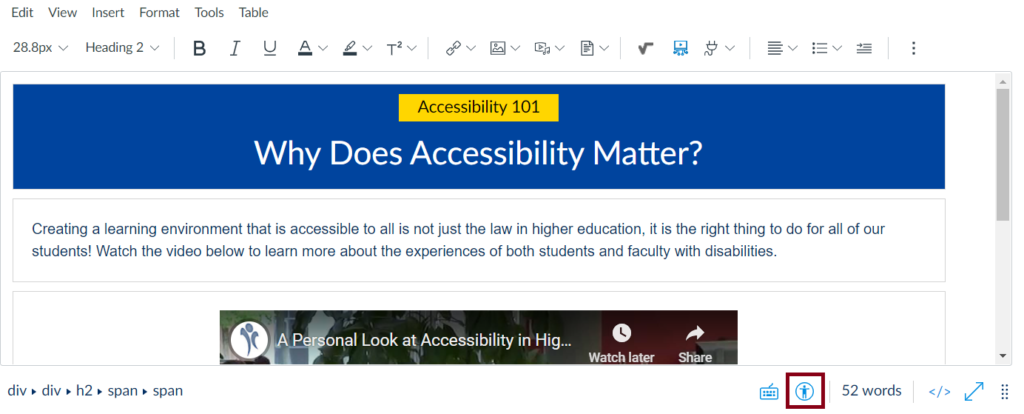 The checker verifies the following accessibility rules:
Large text contrast: text larger than 18pt (or bold 14pt) should display a contrast ratio of at least 3:1
Small text contrast: text smaller than 18pt (or bold 14pt) should display a contrast ratio of at least 4.5:1
Color contrast: verifies content color contrast without having to enable High Contrast Styles
Table captions: tables should include a caption describing the contents of the table
Table header scope: table headers should specify scope and the appropriate structure
Table header: tables should include at least one header
Sequential headings: heading levels should not be skipped
Heading paragraphs: headings should contain no more than 120 characters
Image alt text: images should include an alt attribute describing the image content
Image alt filename: image filenames should not be used as the alt attribute describing the image content
Image alt length: alt attribute text should not contain more than 120 characters
Adjacent links: adjacent links with the same URL should be a single link
Color
Ensure color contrast between text and background is sufficient.
Use high contrast colors: black, dark gray, dark orange, dark green, dark purple, navy blue
Avoid low contrast colors: yellow, light green, orange, red
Ensure color is not the only way information is conveyed (e.g: all problems listed in red must be turned in for homework credit)
Documents
Use Canvas Pages rather than posting/linking to other documents as much as possible
Ensure all PDFs are tagged and have text that can be copied and pasted. Use SensusAccess to convert scanned, image-only PDFs as needed
Ensure all PowerPoints use built-in slide templates
Images
Ensure that all images have alt text that conveys the meaning of the image
If images are used solely for visual interest, mark them as "decorative"
Media
Ensure all videos have accurate captions. YouTube auto-captions do not satisfy this requirement!
Ensure all audio files (lectures, podcasts, etc.) have an accompanying transcript
Structure (Headings & Lists)
Ensure you are using the Heading styles in the Canvas Rich Content editor to give structure to your pages
Do not skip heading levels
Use the built-in bulleted and numbered list tools in the Canvas Rich Content editor
Tables
Ensure that tables have heading rows marked
Avoid merged cells